Plastic Surgery
We see almost all conditions of superficial problems; lacerations, scratch wounds, burns, post-operative scars, keloids, nevi, skin tumors, leg veins, congenital anomalies, ptosis, facial nerve palsy, ingrown nails, inverted nipples and so on.
Even though you don't know which department to go, please come and see us.
Dermatology
Eczema, contact dermatitis, athletes foot, warts, measles, hives, chicken pox, pimples, and the troubles of nails and hair and so on can be treated at dermatology.
The precise diagnosis by a dermatological specialist is the shortest way to cure.
Allergology
Atopic dermatitis, hay fever and so on are all allergic diseases. Some of the chronic trouble may be caused by allergic reaction.
Constant and deliberate care is important for the allergic diseases.
Aesthetic surgery
Wrinkles, freckles, crows feet, folds, blephalo-plasty, face lift, nasal plasty, lipo-suction, augmentation, and so on are treated at aesthetic surgery.
We may offer you not only surgical procedures but non-surgical procedures such as lasers and fillers to fit your social condition.
Anti-aging is also our major subject.
Rehab make-up®
This is the therapy to remedy the troubles of the body surface with the technique of make-up. The "Rehab make-up®" was advocated by Ms. Reiko Kazki.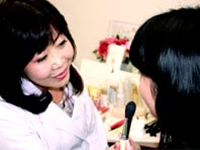 The goal of the make-up therapy is not only to hide the scar or nevus completely, but to let the patients be confident with their appearance.
This subject is carried on irregularly, so please contact our staff for the counseling schedule.